Live-Blogging the Vice-Presidential Debate
Republican Mike Pence and Democratic rival Tim Kaine face off at Longwood University in Farmville, Virginia.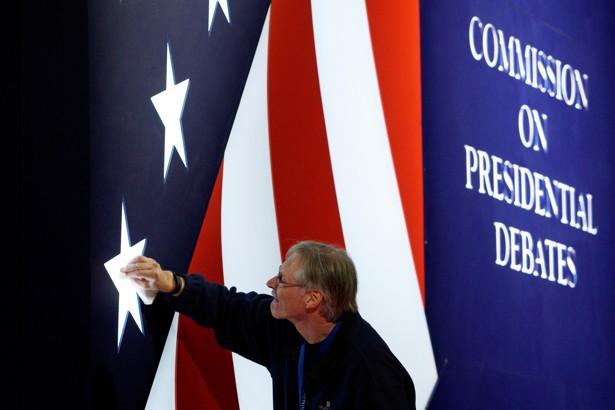 UPDATES
Pence And Kaine Want You To Think They're Boring
The 2016 vice-presidential schtick is that both candidates are lame.
Tim Kaine cheerfully
admitted
he's "boring" on Meet the Press. "But you know, 'boring' is the fastest growing demographic in this country," he added, an observation equal parts saccharine and confusing. Mike Pence is equally self-effacing,
calling himself
a "B-list Republican" on the campaign trail. The two men, who will meet at Longwood University in Virginia to debate on Tuesday night, have each styled themselves in the least offensive way possible, perhaps hoping to invite only
dad jokes
or shrugs in a year of polarizing candidates.
This, of course, is political fiction. While Kaine and Pence might not have profiles to rival their presidential counterparts, both have spent time in national offices: Kaine is a United States senator and the former chair of the Democratic National Committee, having previously served as Virginia's governor and the mayor of Richmond. Pence served in Congress from 2000 to 2013, and is currently the governor of Indiana. Each man has embraced his vice-presidential duties and become a booster and money-raiser for his ticket, careful not to steal the show like
certain
others
who have taken on that role. And yet, Kaine and Pence have both overseen distinctive policy approaches in their states––at times conflicting with the platforms of the nominees they're now supporting.
When Kaine was picked to join Hillary Clinton's ticket, he was widely considered a
"safe"
choice: He hails from a swing state, he's a centrist Democrat, and his background is free of
Clinton-
or
Trump-style
scandal. But for those farther left in the Democratic Party,
the choice was less than ideal
: Kaine has been a strong supporter of free trade, accusing advocates of protectionism of having
a "loser's mentality,"
along with interventionist foreign policy––similar stances to Clinton's, but ones she has
tried
to
underplay
on the campaign trail. Kaine, a lifelong Catholic, also has a streak of social conservatism: During his time in office, he's moved to embrace pro-choice positions, but
still doesn't support
the repeal of the Hyde Amendment, which prohibits the use of federal funding to pay for abortions. The GOP even
went to the trouble
of compiling a list of all the ways Tim Kaine is "Sanders's Backers' Nightmare" before he was nominated this summer. These issues will make for particularly good debate fodder, especially for progressives choosing between Clinton/Kaine and, for instance, Jill Stein.
Pence, on the other hand, was presumably picked to reassure conservative Republicans that Donald Trump would be their man. He's well-known in Indiana for his support for
a religious-liberty bill
that brought national attention––and protests––last year. He signed legislation this spring that banned abortions
on the basis of genetic abnormality
and
mandated funerals or cremations for fetuses
. He's also
supported
other conservative causes, like charters and vouchers, and opposed Common Core; he was strongly pro-free trade and
has advocated
for increased national military spending. On a few issues, though, he has gotten into conflict with Trump; in December, for example, he
criticized
calls for a ban on Muslim immigration as "offensive and unconstitutional," a comment clearly aimed the man who is now his running mate. Questions about immigration and perceived bigotry could prove particularly revealing on Tuesday night, especially as Pence tries to fulfill his role as
Trump's apologist
.
The two vice-presidential candidates are unlikely to draw the record-breaking
84 million estimated viewers
who tuned in for the first presidential debate, but their face-off is important.
One of these men will play back-up to the next president, providing support on policy and preparing to step into the role of commander-in-chief if anything bad were to happen. Heck, if Pence cut a deal with Trump anything close to the one
reportedly offered
to Ohio Governor John Kasich in May, he could be the one "in charge of domestic and foreign policy" come January.
If nothing else, the two men might offer some clarity on their respective platforms; they'll probably spend more debate time on policy than name-calling, unlike their presidential peers. After all, the story goes, Kaine and Pence are just two nice guys. We'll see if they live up to that reputation––the debate, along with our team's regular live blog, will kick off at 9 p.m. ET.