LIVE
Clinton and Trump lead final Iowa poll
This page automatically updates
Key Points
Candidates step up battle for voters a day before presidential primary season begins in Iowa

Final Iowa poll gives Hillary Clinton a slim lead over Vermont Senator Bernie Sanders in Democratic race

Poll shows Donald Trump gets support of 28% of likely Republican caucus-goers, with Ted Cruz at 23% and Marco Rubio at 15%

Iowa is the first state to decide on Democratic and Republican presidential candidates
Live Reporting
By Paul Blake and Sarah Fowler
All times stated are UK
Top searches on Google trends...
Google trends has compiled data in graphics showing which candidates and issues were the most searched for in Iowa on Friday...
The graphic below shows top searches for issues:
Red = guns
Blue = economy
Light green = the so-called Islamic State group
Dark green = immigration
Pink = minimum wage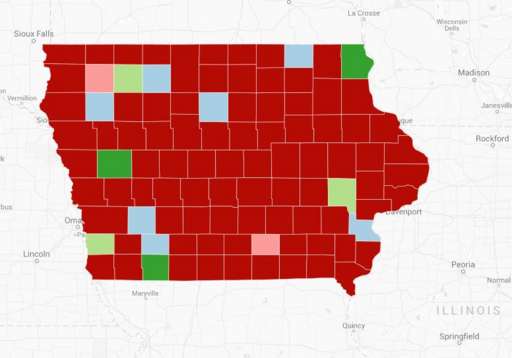 As the 2016 presidential hopefuls make their final pitch to candidates in Iowa, what are the issues which matter most to voters?
The BBC's Rajjni Vaidyanathan spent some time talking to people in the rural southeast of the state. Over home-made pie, they talk guns, immigration and why they still get along despite their political differences.
Radio replay: Donald Trump's evangelical appeal
Barbara Plett Usher
BBCNews, Washington
Most Americans don't believe Donald Trump is very religious, or even religious at all, according to the Pew Research Center. Yet he leads the polls nationally among white Christian evangelicals. And this week he received the blessing of one of the biggest names in that community, Jerry Falwell Jr, the president of Liberty University.
So what's going on?
For starters, they like his tough talk on immigration, foreign policy and the economy. And they love his battle against political correctness. These factors seem to be trumping traditional evangelical concerns about morality and belief – although not for everyone: there's a significant push back from champions of personal and family values.
Still, evangelical support could give Mr Trump an important boost in the Republican primaries, especially where they begin, in religiously conservative Iowa. Mr Falwell endorsed The Donald one week after he gave a speech at Liberty. Barbara Plett Usher was there – exploring the appeal, but also the divisions.
Originally aired: 26 January 2016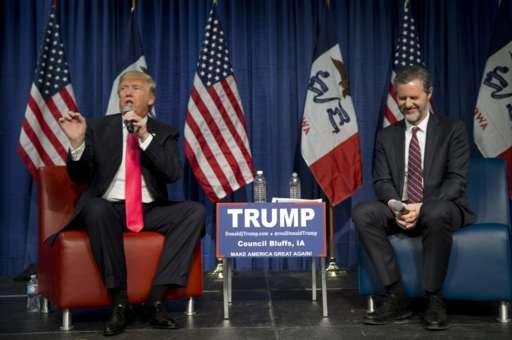 Bernie supporters make their voices heard
BBC producer Sarah McHaney, Iowa
On a candidate crawl in Iowa

Rajini Vaidyanathan
BBC News, Iowa
Politics is personal in Iowa because the White House hopefuls have to get out to meet voters face to face, rather than rely on reaching them through television adverts.
And that means criss-crossing the Hawkeye state in the days before the 1 February caucuses - the first contest in the long nominating process - to shake as many hands and kiss as many babies as possible.
The BBC's Rajini Vaidyanathan hit the campaign trail in Iowa to see how many candidates she could see in a day.

The latest live from Des Moines

Gary O'Donoghue
Washington Correspondent
Rubio talks foreign policy, slams 'apologist' Obama
Radio replay: Will next US president make world safer?

Nick Bryant
BBC News, Iowa
Political ads Iowans will be subject to this year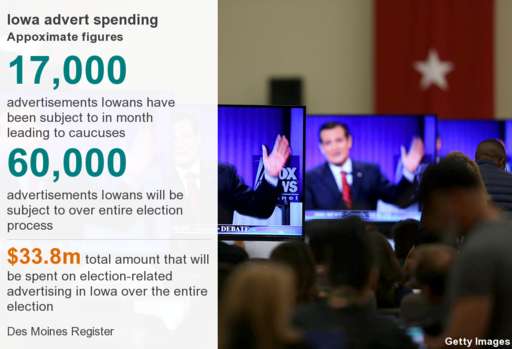 So why do caucuses and primaries matter?
Latest polling favours Clinton and Trump
Late on Saturday, the Des Moines Register and Bloomberg Politics released results from the final poll before the Iowa caucuses.
The poll was conducted by Ann Selzer, who has a reputation for getting things right in
the Hawkeye State
.
As
Vox reminds us
, "polling the Iowa caucuses is extremely difficult," because, among other reasons "many voters end up deciding quite late". However, Ms Selzer "seems to be an expert at both modeling turnout and picking up on this late movement".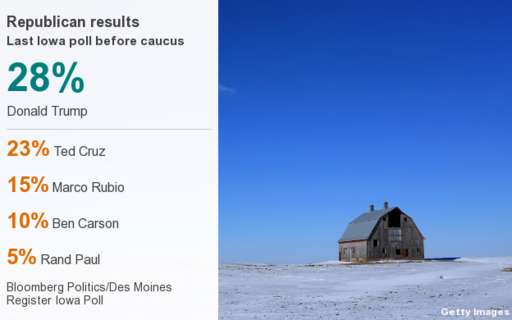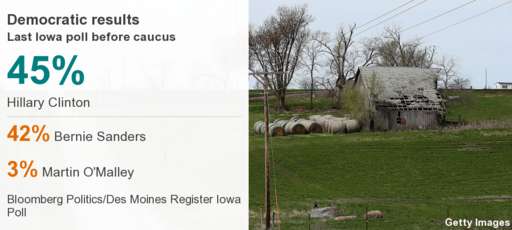 Bernie touts fundraising prowess in Waterloo
Bernie Sanders is campaigning in Waterloo, Iowa, at the moment.
He's in a close second place to Democratic frontrunner Hillary Clinton - but more on polling in a minute.
Some highlights from his speech:
He thanked the 15,000 volunteers he has in Iowa
He noted that his campaign was not using a so-called Super PAC (explained here) to raise funds, unlike Hillary Clinton
He said his campaign had received 3.2m individual contributions over the last nine months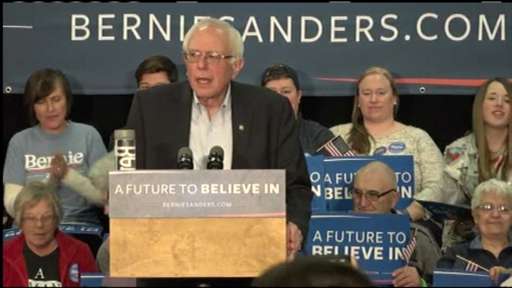 Caucus vs primary - meaning and differences
Explaining some rather American terminology...
Iowa is important - if only for a few days.
But, what is a caucus? And a primary? What do all of these terms mean? And what's the difference?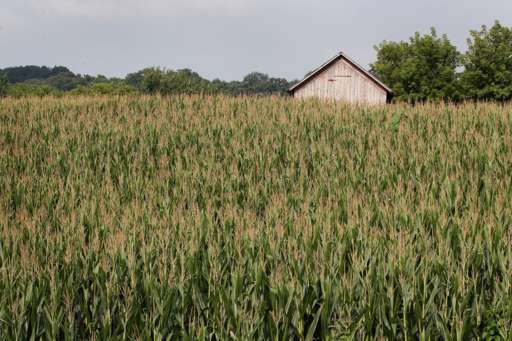 You may be wondering: what's all the fuss about Iowa?
Iowa is the first of the fifty states to decide who its residents want to be the Democratic and Republican nominees. Voting in this state officially kicks off the US election's primary season - though campaigning has been happening for about a year now.
In many ways, the Iowa caucuses are this otherwise largely forgettable state's claim-to-fame, as
we explain here
.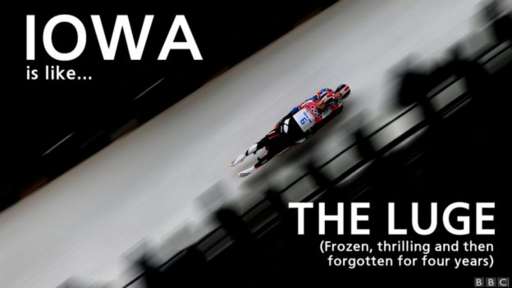 Welcome back - 31 January 2016
Welcome back to the BBC's live coverage of the 2016 US election.
It's the last full day of campaigning before the Iowa caucuses, and the latest polling continues to show Donald Trump and Hillary Clinton leading their parties.
Stick with us over the next few hours as we bring you the latest from Iowa and across the country, one day before Republican and Democratic candidates meet their first electoral test of the 2016 election.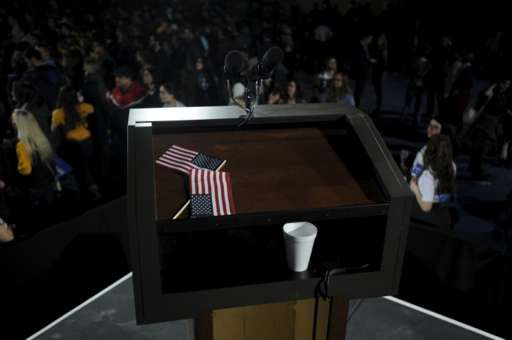 That's it for now - 29 January 2016
That concludes our coverage of the post #GOPDebate horse race.
Come back and join us on Sunday for more in-depth analysis and coverage from the ground in Iowa with the voting only a day away.
The Republican debate in cartoons