Shooting
US win first gold in Rio
Rugby Sevens
New Zealand 14-0 Kenya

Luke Reddy
BBC Sport in Rio
New Zealand are here alright. It took them 14 seconds to score a try against Kenya.
As well as Sonny Bill Williams sister Niall,
Kayla McAlister
, the sister of former All Black and Sale fly-half Luke, is in the New Zealand women's team.
She has crossed for her teams second score.
'IOC to investigate Israel bus blockade'
Reports emerged of the incident last night with Israel sailing team trainer Udi Gal claiming on Facebook that "the organizers wanted to avoid an international and physical incident and sent us away to a different bus."
Warm appreciation for Grainger and Thornley
Rowing

Alistair Magowan
BBC Sport in Rio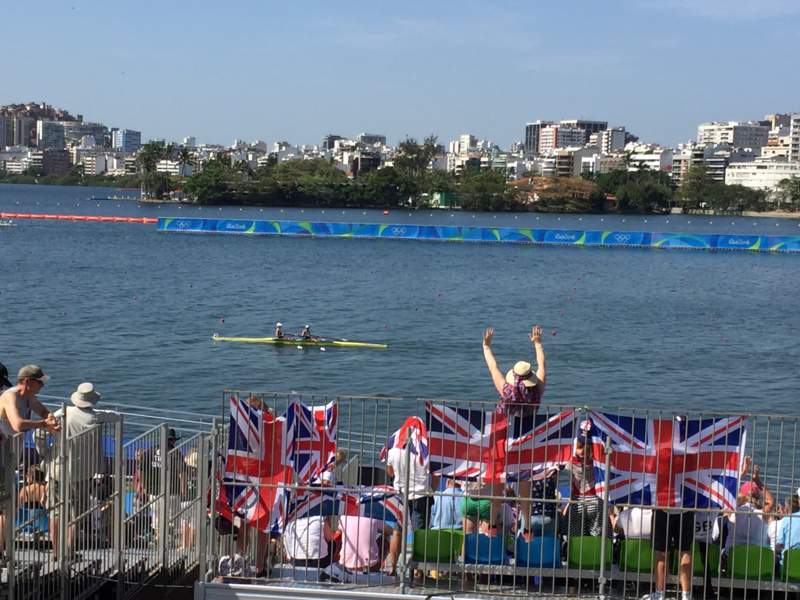 No problems with capsizing for Britain's
Katherine Grainger
and
Vicky Thornley
in the doubles sculls as they finish second in their heat to reach the semi-finals.
They were given warm congratulations by the Great Britain fans, who look like the most numerous contingent so far and have had a successful morning from their point of view.
Rowing
Women's double sculls - heat one

James Cracknell
Double Olympic Rowing gold medalist
This could be the difference between
Katherine Grainger
and
Vicky Thornley
believing they can get a medal and delivering on a medal.
What they've done now is they've let Lithuania have a mental edge on them.
Right now the only positive they can take is they've got the boat speed, but not the endurance.
Rowing
Women's doubles sculls - heat one
Can
Katherine Grainger
grab an incredible fifth Olympic medal, at the age of 40?
She and
Victoria Thornley
have just sent Great Britain through to the semi-finals of the women's doubles sculls - so Grainger is well on the way.
They stormed into a lead that gives real hope of what still could be to come, before slipping into second behind Lithuania. Third place went to the French boat, who also go through.
Rugby sevens set for Olympic debut
Great Britain v Brazil (16:00 BST)

Sir Clive Woodward
World Cup winning rugby union coach on BBC TV
It's a hugely exciting day for rugby. We're hoping this first appearance at the Olympic Games is going to show sevens in its best light. The women's event starts today and there really are some fantastic teams and individuals involved.

Luke Reddy
BBC Sport in Rio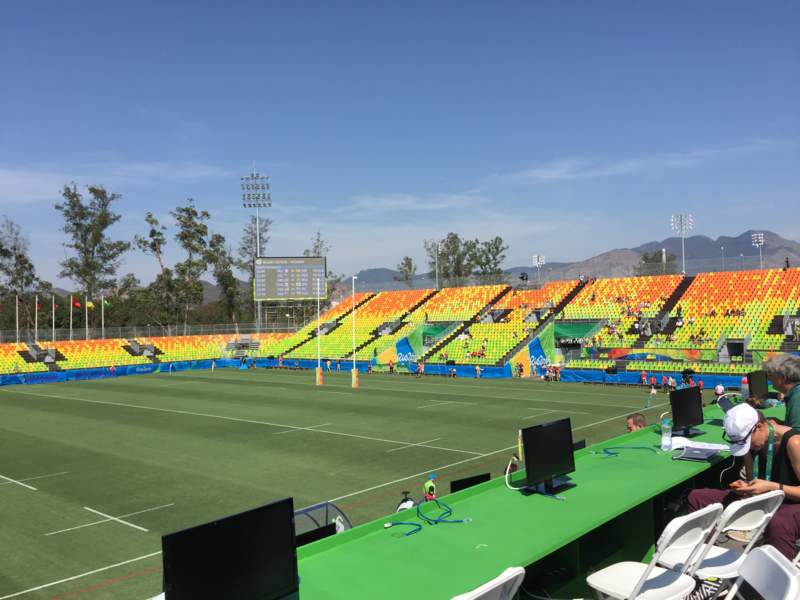 Early assessment - and let's stress early - is that Brazil hasn't yet got the rugby sevens bug. The crowd inside the stadium here In Deodoro is noisy considering how humble it is in size. One stand is well populated, three aren't.
France just hammered Spain 24-7. A good contingent of French here. Team GB's women are up in half an hour.
Zero coverage on any stand so if you've not brought a hat it's a big error.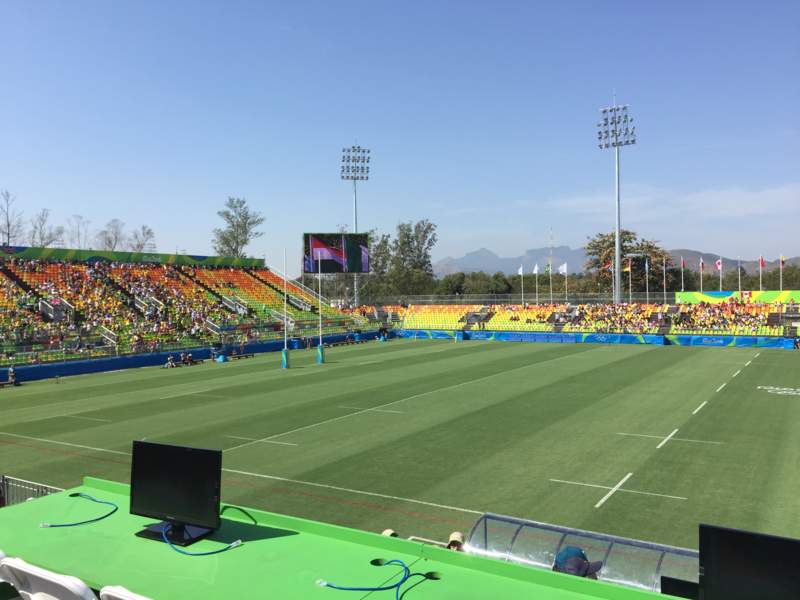 Aimee Lewis
BBC Sport in Rio
While the queues outside the Olympic Park seem to be the hot topic of discussion, the line at the ticket office is a short one. Joyce Sartori and Franklin Junior from Rio aren't complaining, however, as they've just bought tickets for the boxing and judo.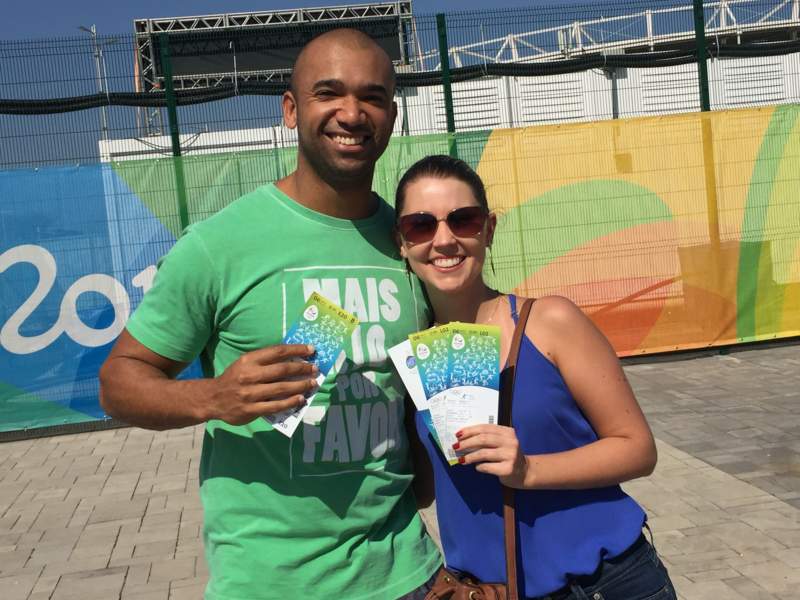 More on "two hour" Olympic Park queues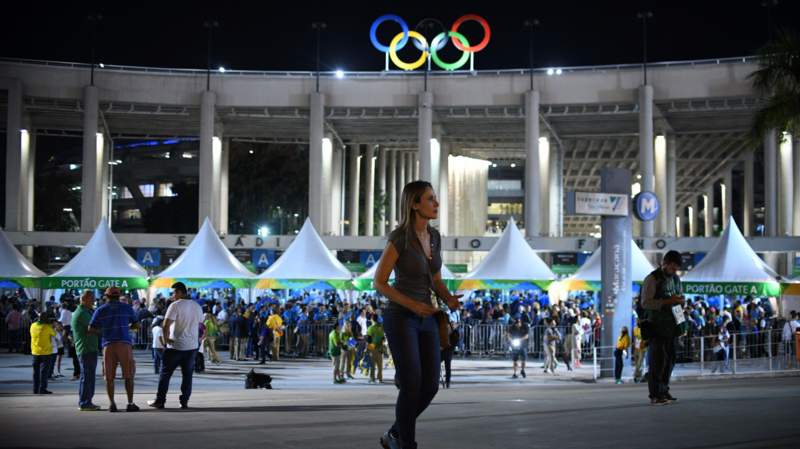 Below is an official Rio 2016 statement regarding reports of long queues and the reported stopping of security measures at Olympic Park.
"We apologise to all spectators who have had to queue on the first day of competition. We are fully aware of the problem and frustration.
"We requested that the relevant authorities increase the speed and effectiveness that people can enter the park by requesting that more employees are working on the x ray machines.
"Following improvements the lines are now back to normal. We appreciate the patience and understanding shown by fans."
Rowing
Sinking feeling for Serbia

James Cracknell
Double Olympic Rowing gold medalist
"If I were the Hungarians I'd go and buy a Brazilian lottery ticket, because they've lucked out massively. They were going to be last but not only have they qualified, they now get a day off tomorrow."
The Serbian duo take an unwelcome dip at the Lagao in the men's pairs heats, allowing the Hungarians to qualify.
Serbian pair capsize
Men's pairs heat

Alistair Magowan
BBC Sport in Rio
Amazing scenes here as the Serbian pair of Milos Vasic and Nenad Bedik have just capsized. Most of the crowd appeared unaware as it came a lot further down the lagoon.
The lagoon can get very choppy as it's such a vast expanse of water and the wind can get up quite quickly being so close to the coast. In fact, it was closed for training because of this earlier in the week.
Boxing
Men's light flyweight
Ronald McIntosh
BBC boxing commentator in Rio
When Yafai bobs and moves, he really is the guv'nor inside the ring.
That's a great way for him to open his account.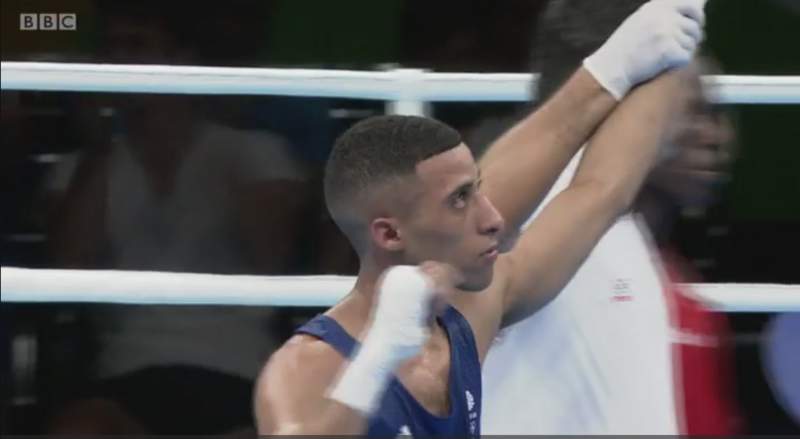 Mollema & Van Avermaet in trouble
Men's road race - 160km to go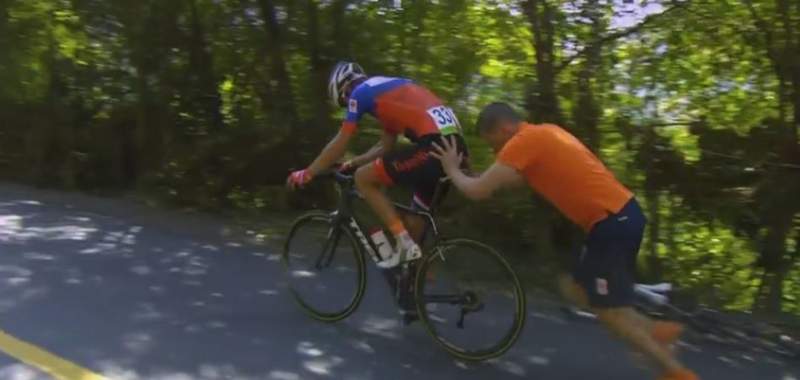 A bit of strife for Dutch rider
Bauke Mollema
as he gets an mechanical and he had to haul a spare bike off the roof of his team car.
Belgium's
Greg van Avermae
t has also been in trouble after a puncture.
Both men are using up plenty of energy reserves to get back to the peloton.
Up at the front, the same six riders who broke away early on are still clear, although their lead has been whittled down to around five minutes.
Colombia's Jarilson Patano Gomez, Germany's SImon Geschke, Swiss Michael Albasini, Russia's Pavel Kochetkov, Norway's Sven Erik Bystrom and Poland's Michal Kwiatkowski.
Boxing
Men's light-flyweight
Over in the boxing, Great Britain's
Galal Yafai
unanimous point victory over Cameroon's
Simplice Fotsala
sees him through to the second round.
And in fact he has made history by becoming the first ever boxer to win an Olympic bout without the use of head guards.
The Birmingham boxer's southpaw stance and lightning quick combinations were too much to handle for his Cameroonian opponent.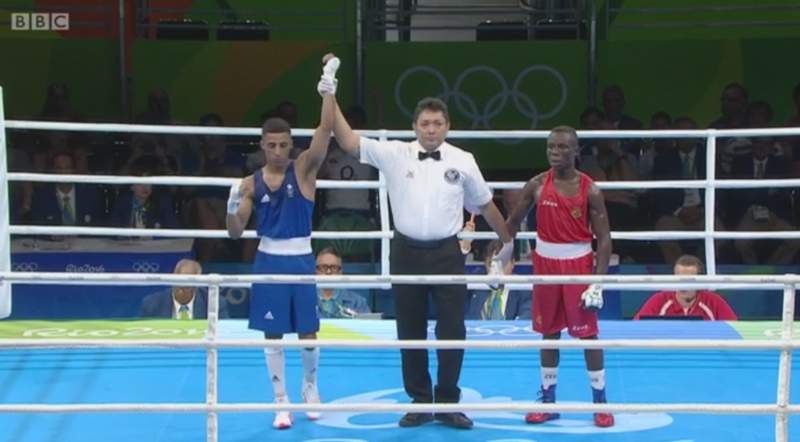 Aimee Lewis
BBC Sport in Rio
Some people have been complaining of hour-long queues, which is nothing on Wimbledon. The snaky queues have now shrunk and are moving more rapidly. Some Brazilians weren't happy however, jeering at a lady with a loud speaker. But there was entertainment In the form of Palhaco Tutu, a jovial clown.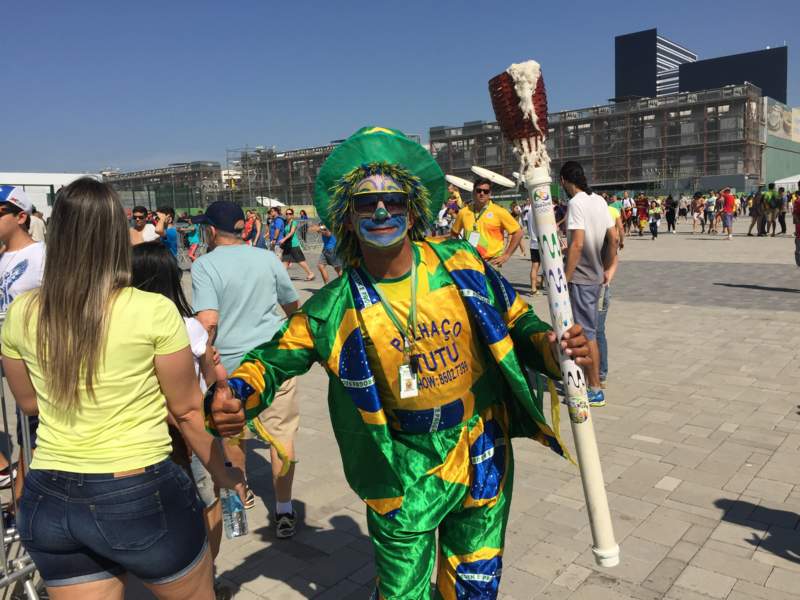 Get Inspired
Get Inspired