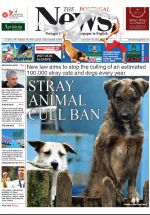 04 June 2016
Edition: 1375
Read this week's issue online exactly as it appears in print.
Vilamoura Master Developers Vilamoura World this afternoon announced the launch of a new project which will see the existing L'Orangerie resort extended with a €10 million investment.
read more »
Algarve
Take a trip around the world with your taste buds, discover the best in art,...
read more »
Lisbon
A food drive staged by the national Food Bank throughout Portugal last weekend...
read more »
Business
Portugal has been overtaken by Spain and Malta in the latest IMD World...
read more »
Sport
As Louis van Gaal flew out to his villa in the Algarve to count his reported...
read more »